Would you believe it if I told you that many advertisements nowadays, especially of electronic products like smartphones, computers, and drones are created without the real object being filmed even once? Yes. All of this is due to 3D product renders.
3D rendering is the process of rendering three-dimensional images on a computer. Its application ranges, for example, between technical visualizations of products and constructions, artistic productions of commercials, and cinematic passages for films and games.
This article will focus on the 3D product rendering topic.
Let's start by exploring, then, what is this magic that creates such photorealistic scenes and objects without the aid of a real camera.
What is, in fact, 3D product rendering?
For an object to be represented in the most realistic way possible, it must exist in the 3D environment. This happens through modeling, and whoever performs this function is called a 3D modeler.
There are different modeling techniques, such as polygonal – in which the object comes to life with small "cells", called polygons – and NURBs, more used for product creation and development. In the latter, the object is generated by mathematical operations and the final file has a CAD extension.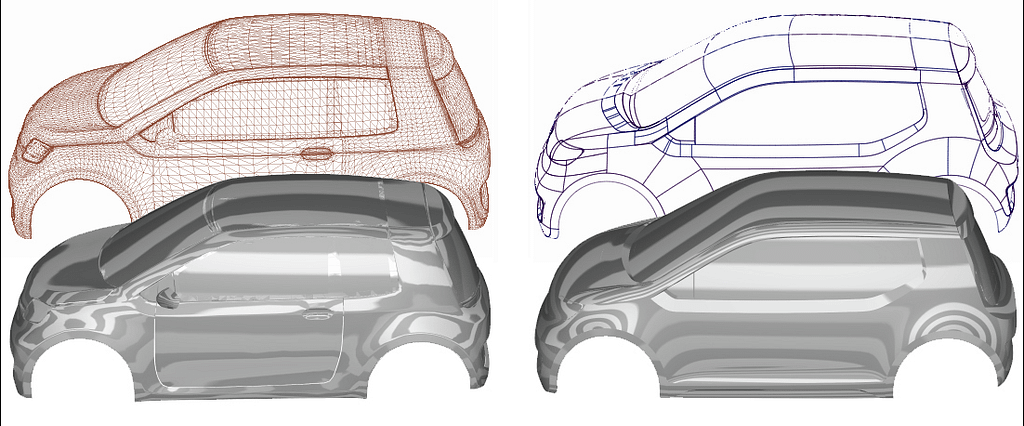 With these files in hand, the product already exists within the 3D universe. From there, textures are applied to give the object the characteristic of plastic, metal, glass, etc.
It's very important to be extremely careful in this texturing phase so that the product has all the qualities highlighted and the image is as photorealistic as possible. It is common to see product renderings with a quality that more hinders than helps to sell. Check here how to identify a high-quality render.
Modeled and textured, the object will be illuminated within the software. The rendering of a good model, with a great texture and well-done lighting, is indistinguishable from a photo taken of the real product.
For still images, the cameras are positioned within the 3D software — yes, we also work with cameras in 3D, but they are virtual — and the computer works to generate the images.
If the goal is a video, the next step is the animation of the cameras and the product. The great wonder of 3D is that everything is allowed. The product doesn't get damaged, doesn't break, doesn't get dirty, doesn't have to obey the law of gravity, and can be shown from all angles, externally and internally.
That's a lot, right? And it has even more advantages.
Why 3D product rendering?
To make it easier, let's divide into two categories of advantages that 3D rendering will offer us:
Technical advantages
Working with 3D presents a series of facilities and advantages under the traditional method of filming a product. A shortlist follows:
The video can be thought out and created before the product even exists. A technical drawing (aka blueprint) is enough for the product to come to life.
It is easy to resize and create multiple versions like HD, FullHD, 4K, 16: 9, 1: 1, 4: 3, 26:12, π / π. From your cell phone to a huge auditorium screen.
You don't need to edit out product imperfections in Photoshop or other software. In the 3D universe, they won't even be there.
Assembling, disassembling, and rotating the object in 360º has never been easier.
Cut sections and have an X-ray view to show the functioning and/or internal parts.
Show relevant micro details and textures of any material you need: fabric, wood, gold, glass, plastic, vinyl, anything.
Simulations: fire, water, steam, smoke, anything. We destroy and rebuild.
Quick reviews. Colors, lighting, scenery, studio; we iterate at the speed of light.
Business advantages
Along with the technical advantages, a lot of value is added to your business, for:
There are no expenses or risks inherent in the use of a real product.
The work can be done globally and remotely, as there is no need to have the product on hand.
Increased sales and credibility, as the product is presented in its entirety, and what people understand, they buy.
As the revisions are faster, the video can be produced quickier and the changes do not require an entire reshooting of the scene.
There are no expenses related to the rental of equipment and studios.
The product can be presented in any scenario. Need a drone flying over a desert? You don't have to go to the desert.
Minor changes to the product such as button positions or LED colors are easily replaced, keeping the video identical.
Examples of 3D product animation
We are talking so much about 3D product renders, but do you remember any products or brands that used this technique? Below are some videos of commercial products created entirely in 3D for your inspiration:
1. Oppo Reno
The trailer of the smartphone model Reno, from the Chinese brand Oppo. You can see that, far beyond a simple neutral background with a spinning product, the video has whole storytelling in rich and elaborate scenarios. The idea of ​​this style is not simply to show a product, but to create a concept of the brand and the model. Abstract objects are used as allegories of the phone components, and even the traffic light morphs into the cameras with an elegant transition.
One of the objectives of this video was to exalt the large zoom of the Reno model, and for this reason, many transitions and camera movements play with the approximation and distancing. This commercial is a masterpiece.
2. Razer Basilisk Ultimate
The giant Razer as well is always presenting its new PC peripherals through 3D product renders. The brand's commercials are widely known and famous for driving the brand's consumers crazy with each new launch. It's hard to choose the best one.
In the video below, many scenarios were also used to metaphorically showcase how customizable is the Basilisk Ultimate mouse.
The fast camera movements and the microscopic shots showing the materials of the product are often used on Razer videos, which adds even more beauty and detail. Check it out below:
3. Apple AirPods Pro
Apple is famous for using 3D product animations mixed with scenes of people dancing and interacting with their products. In the video above, on the occasion of the AirPods Max launch, you can see a beautiful 3D product animation in action.
It was also very interesting to see the 3D "exploded view" of the object, showing all the internal components. Are you curious to know what's inside some products as well?
For its 3D shots, Apple usually prefers using simple scenarios. In this video, it is just a white background.
This clean look is also beautiful and lets the product shine.
4. Galaxy S21 Ultra Nautical Case
Here's a video we made in 2021 for an amazing brand called Ghostek, featuring the Ultra Nautical Case for the Galaxy S21 phone.
5. Casio G-Shock
Now a shorter video, also created by Peregom, with the G-Shock model WR20BAR. The idea here was to emphasize how technological the watch is in a spot limit of 5 seconds. This was not a paid project. It was an internal opportunity to explore new techniques in 3D.
Have you ever thought of a video like this for your product? Now it is entirely possible. Get in touch with us and let's make it happen.
What is needed to create 3D product renders?
You have already grasped the idea of how creating an object within the 3D environment works. But do you know what is necessary to make this process possible?
It's quite simple. For any studio to replicate the object in 3D, it is necessary to have:
a photo or technical drawing with the dimensions of the product, or the product itself.
the relevant textures in vector file (.eps, .ai, .svg) or image (.jpeg, .png). Things like packaging and labels.
After this, you will quickly have the model ready in your hands, rendered in the best possible quality.
Where are 3D product renders used?
The use of 3D modeled products is vast; from 3D printing to animation.
In our case, as a 3D product animation studio, videos are usually sought for a product launch trailer, as a way to explain an internal operation or external mechanics.
Videos can also be created in Full HD for a YouTube commercial, or in larger formats to be shown on a giant screen at a launch event.
Another great use of 3D product animation is the possibility to demonstrate a prototype to potential investors. Thus, it is possible to seek investment before investing in the manufacture of the product.
How much does a 3D product animation cost?
This theme has been better explored in this blog article, but, in summary, the cost is always proportional to the complexity and duration of the project.
As many parameters are taken into consideration before we have a proper estimate, we've made this page to make it easier for you.
Conclusion
The use of 3D for product trailers is extremely positive and continuously growing. Big brands like Apple, Razer, Huawei, Oppo, Xiaomi, etc., have already entered with everything in this new reality.
The lower costs and the faster revisions make the 3D product rendering option attractive and affordable even to smaller companies. A few years ago, this kind of production was costly both in time and money, but things have changed over the years.
Do you need a 3D product rendering?
Good news! If you have a product and understand that a 3D animation will help to boost your sales, you are in the right place. We are specialists in 3D product animation and we can help you from modeling to the final project.
If you have 3 minutes to share more about your project, click here. If you want to understand better how the process works, here are the most common questions we receive.