So, you've just finished creating and/or editing your video, but still haven't found the perfect song to go along with this masterpiece? You don't even know where to start searching and you're considering downloading that famous hit from a YouTube video to use in your video? Wait! Your problems end here!
As a 3D animation studio, we also needed to get a lot of free music to put in our videos. After all, although a good song represents 50% of the emotion of a video, the project budget does not always allow the purchase of paid music licenses. For this reason, I am putting at your disposal this list of reliable sources to find all kinds of music, from electronics to orchestral.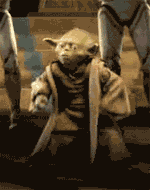 Detail: Some of the best recommendations that I'm writing here, I have never seen in any other articles.
I just want to highlight that I kept in this list only the options that solve the problem quickly. I got tired of opening websites that claim to contain royalty-free music only to discover that the music is "free" via a monthly subscription. More like fee music. Neither have I included hard-to-navigate websites, with hard-to-understand licensing systems.
If I need a free song, I want to open the website, listen, download, and use it as quickly as possible. I'm sure you feel the same.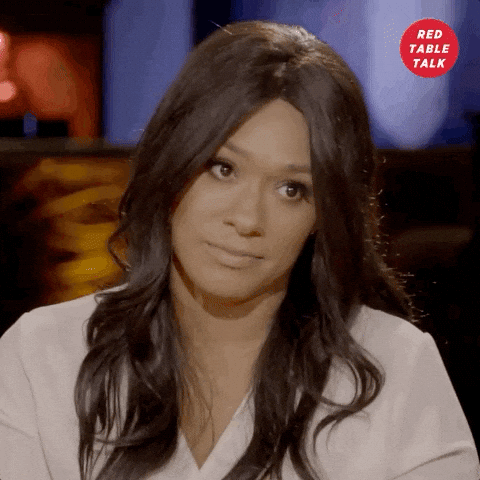 Where to find free music
With no delay, let's go straight to the list of sources where you'll find what you need. The sites that solve my problem the quickest are:
You won't have any difficulty browsing these sites and getting a super soundtrack to raise the level of your video. Still, I will give you an overview of the content of each platform.
It is worth noting that, although the options are free, some specific attributions, credits, or licenses may be necessary, depending on the use you will give it. A song might be legally used for an internal presentation, but requires attribution if you intend to use it for a YouTube video. It's always good to keep an eye on that, and of course, we'll cover more about that in this article.
Game Sounds
Game Sounds is more of a collection than a website that offers music. Initially created as a stock of royalty-free music collected and organized for game development use, you will find a lot of great music, as well as several sound effects.
I recommend downloading everything there and leaving it in a folder called "Free Music" on your hard drive. It will save you time on the run.
The site is very simple to navigate, similar to a folder structure. You can even download an entire folder. Just click on this arrow in the upper right corner after entering a folder, as shown in the image below.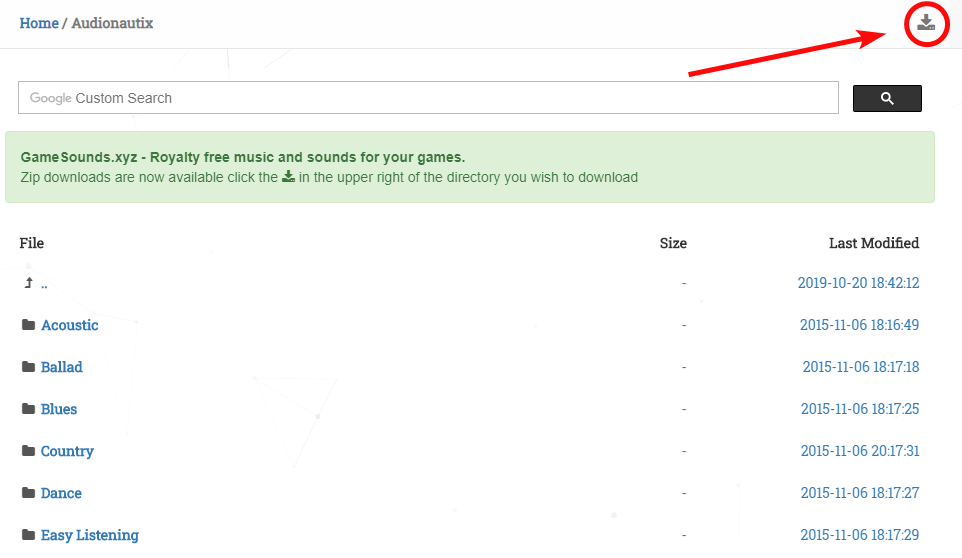 As far as I know, Game Sounds is not a frequently updated collection. Still, the content you'll find there is enough for many, many, videos, believe me.
Free Music Archive
Here we are already talking about an audio platform. You can filter the songs by the curators or by the desired genre. This makes life a lot easier.
As already mentioned, not all songs from the Free Music Archive can be used as you wish. Some require special assignments, but nothing that will give you a hard time.
You know what's even more interesting? Within each genre, the site gives you a wide choice of subgenres to further filter your search. Did you know that there is a subgenre of rock called krautrock? Me neither.
YouTube Audio Library
A lot of people still don't know, but with a simple google / Gmail / YouTube account, you have access to a huge library of free music and sound effects. There's no need to have a public Youtube channel; just be logged in to YouTube. Then, click on your profile icon in the upper right corner and go to that option.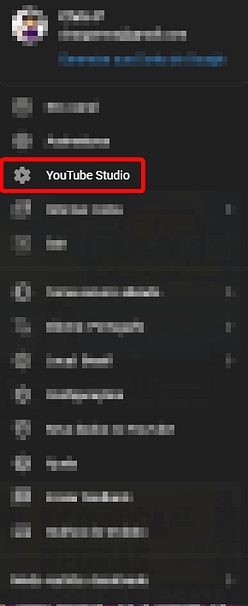 Then, on the left side, go to the "Audio Library" option.
In the YouTube Audio Library, you can filter music in many ways. From genre to duration. The platform also has specific assignment policies. Be aware of this when using one of the songs.
CCMixter
CCMixter already pre-selects collections. You can choose instrumental music for film/video, commercial projects, or games. This is just a way to filter the content to make your searching easier. By clicking "Dig!", You will be taken to a page with various songs.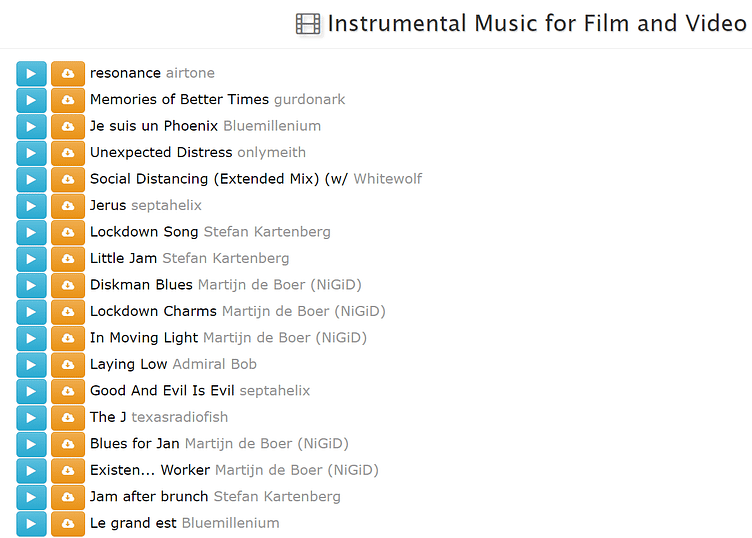 Bensound
Bensound was one of the first options I found for free music. The site has a subscription system, but it is not necessary to have one to access and download most of the songs.
For the songs you download for free, the website ensures that you can use them in your online videos, websites, animations, etc. You only need to credit the site in the format: "Music: [music-link]" or "Music: [music-title] from Bensound.com".
Pretty fair, right?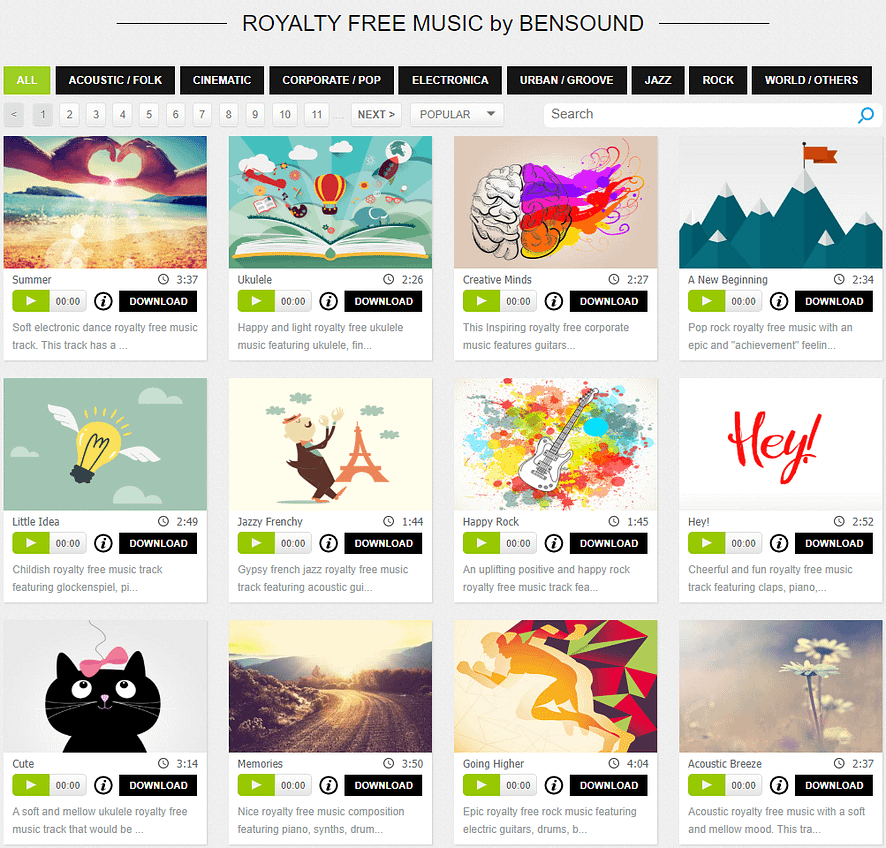 As you can see, the website has a genre filter and displays the songs on cards. There is no mystery to download the songs. The download button is shown for all royalty-free songs, while those restricted to the subscription contain a blue button written "Purchase".
If you need a free song, it's better not to even listen to the paid songs, so you don't get frustrated for wanting and not being able to have it at that moment. You can take this advice for free.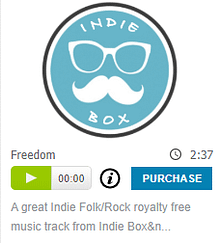 Oh, let me make an important observation about something I didn't realize at first and might not be so obvious to you either. After browsing the site for some time, I missed a way to jump the songs to get a quick preview of the beginning, middle, and end of the piece.
Only recently did I discover that I could click on the white rectangle next to the play button to make it happen. So, I have nothing to complain about it!
Tip: You can download about 50 Bensound songs through that first website, Game Sounds.

Purple Planet
Right away you are already greeted with a variety of musical styles to filter your search, which is very good. The website is very simple and intuitive, showing no difficulty to help you find what we are looking for: amazing songs.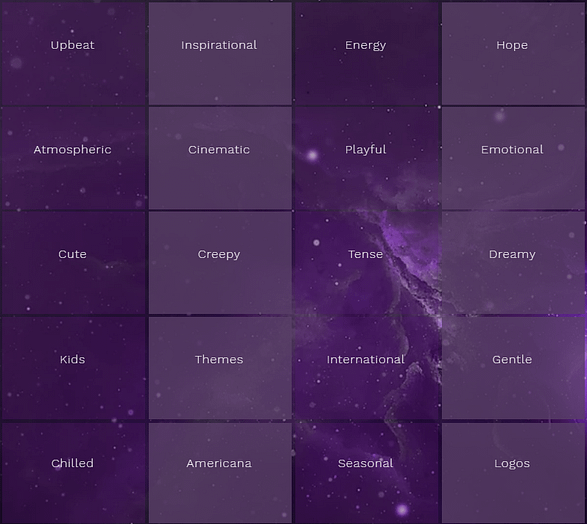 Purple Planet allows you to download music and use it in certain situations, such as videos for YouTube, social media, website, education, and films that you distribute yourself, giving the due attribution. For commercial situations, the website offers different types of licenses, also offering a better audio quality format.
SoundClick
SoundClick is also a very intuitive and practical option to use. Right on the home page, we are welcomed with different musical styles, making our lives easier.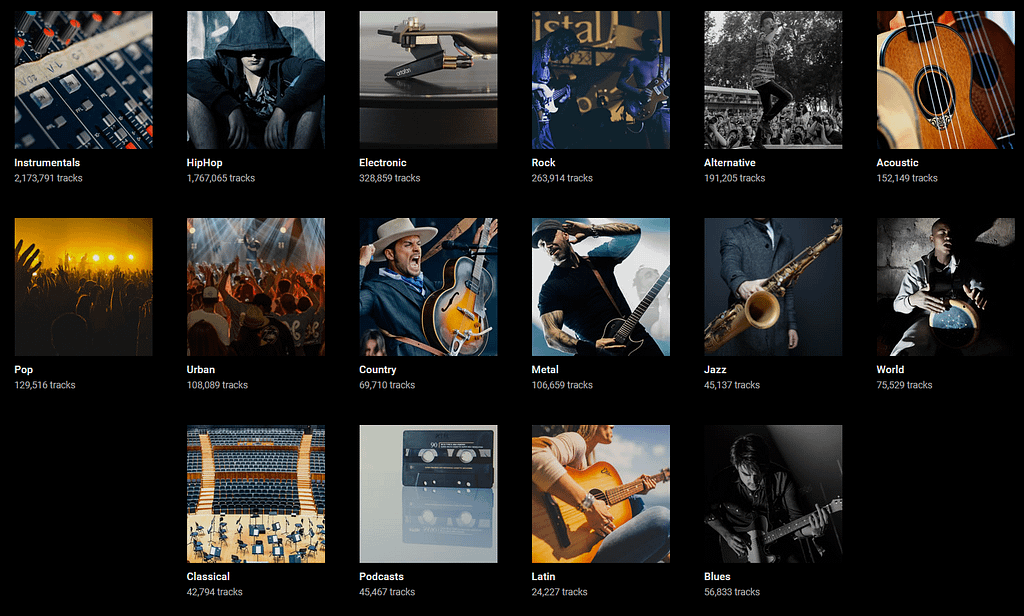 It is also one of the best on this list in terms of internal navigation. When choosing a song, you will have full control, as seen in the image below.

Bonus tip
Here is a valuable tip for finding even more sources of free music:
go to YouTube and type "royalty-free music". There are many channels of independent curators and composers that use the platform to make their creations available to anyone who wants to use, asking in return, basically, the due credits. It is a very useful partnership, and there is a lot of good content to be found there.
There are other platforms where musicians can share their music independently and allow it (or not) to be used by third parties, such as SoundCloud.
Why is good music important?
I wanted to go through this list right away so you don't waste any time, especially if you found this article while struggling with a tight deadline to finish your project. Just choose one—or several—from the options, and you'll surely find the musical style you're looking for.
However, if you have a little more time, I recommend that you keep reading. It's time to explore the importance of choosing good music for your video.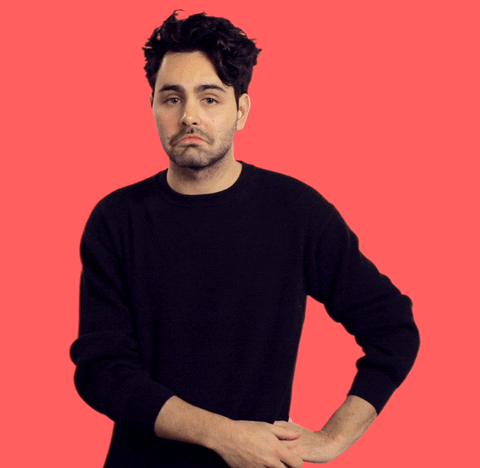 Music has the power to enhance or mess your video up. Imagine a wedding scene: the radiant bride, receiving smiles from all the guests as she makes her grand entrance and, as the soundtrack, a thrash metal popping the speakers. It seems inappropriate, right?
Imagine, also, a video that talks about health in old age. On camera, happy elderly people practicing physical activity outdoors. The soundtrack? Eminem's "Rap God". Doesn't it look incompatible?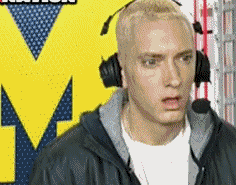 In a video, the song must respect the mood of the image. In some contexts, this is more evident, but even when "any song will do", it is important to make a nice selection. Like beautiful typography, music has the power to control the mood of your video, and should never be neglected.
Why can't I use famous songs in my videos?
If you own a YouTube channel and used a long stretch of a famous song, you may have experienced the famous copyright violation. Even though the video doesn't get deleted in most cases, YouTube generally demonetizes the content and even removes the audio track from the video, leaving only the image.
The same type of violation exists for the image. Some copyright holders are more strict than others, but in general, portions of films, series, cartoons, as well as songs, are identified by the YouTube algorithm and are hunted down.
And look, according to statistics, 300 hours of video are uploaded to YouTube every minute! That's right. 300 hours of video per minute. 432.000 hours of video per day. Still, the algorithm will not let copyright infringement pass.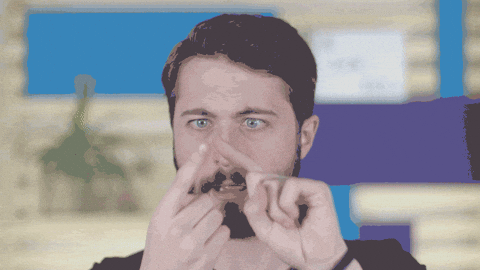 You probably wouldn't like it either if someone simply used the material that you have invested time and money to create, right? As video creators, it is easy to understand this attitude of music producers and authors. Despite the millions that Ariana Grande has in her bank account, you don't have the right to download "Thank u, next" and use it wherever you want.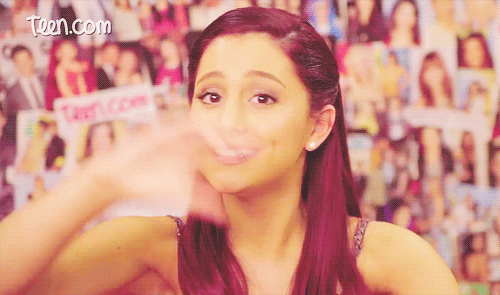 Music, just like all creative material, belongs to someone as intellectual property. In the same way that there are private properties (also known as houses), private spaces where circulation is permitted (such as shopping malls and supermarkets), and public spaces such as streets and parks, the music industry is governed by licenses and permissions, and it is up to the creator to determine how it can be used.
So, let's go to the last part that concerns us on this subject.
Can I use a song without giving credit?
The answer is simple. It depends. Hardly anyone releases the result of their creative effort without asking for something in return. It's completely understandable. Whether in search of the spotlight or money, it is important that the artist's desires are respected. To regulate this negotiation, creative licenses were created.
The terrain of licenses is complex and often cloudy. Explaining this technically is not the intention of this article. Especially because such a topic would need one or more exclusive articles about it—that you certainly will not find on this blog. I am curious, but not an expert in the field, so all I've learned was researching in specific situations.
In general, almost every time a song is offered free of charge, it is requested that due credit be given, and this usually happens with the addition of a simple sentence like one of the following:
Music: [song-name] by [composer]
Music: [composer] [music-site]
Music: [composer]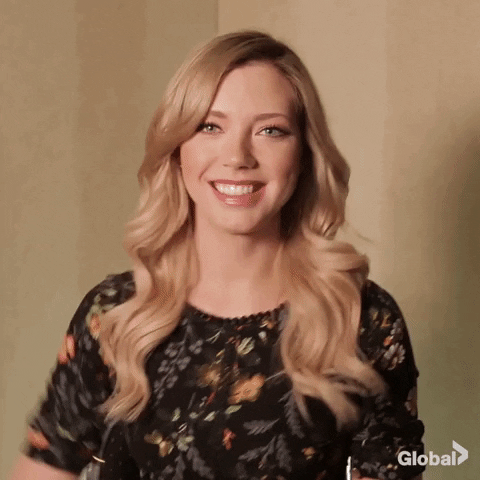 Conclusion
With the seven site alternatives for royalty-free music mentioned, you will have a huge stock of music for every and all situation. Especially because these sites are constantly being updated, having new songs anxiously waiting to join your videos.
Using free music is unlikely to get you any trouble. Just be a nice person and give credit whenever possible.
Avoid using famous songs in your commercial projects if you do not have the proper license, as the restrictions may apply and you might have to deal with problems when you are not even remembering that video.
Take care, choose good songs, and keep creating amazing projects to share with the world!